ALL FRIARS AYLESBURY PHASE ONE GIGS HERE
CLICK FOR EXCLUSIVE PICTURES OF THE NEW FRIARAGE HALL, OCTOBER 2008, THE DAY BEFORE IT WAS DEMOLISHED
For an official potted history of the first 10 years of Friars (including Phase One), please see the news-sheet issued in June 1979 (Police gig)
See also website articles about Phase One by Robin Pike and Kris Needs
Also see Robin's Roxette articles on the early years
Below are some of headlines generated in the Phase One era. Remember that this website is not intended to be viewed as a history of Friars per se, but a chronicle of the gigs that took place. Obviously a few interesting cuttings found their way here and are worth sharing from a curiosity point of view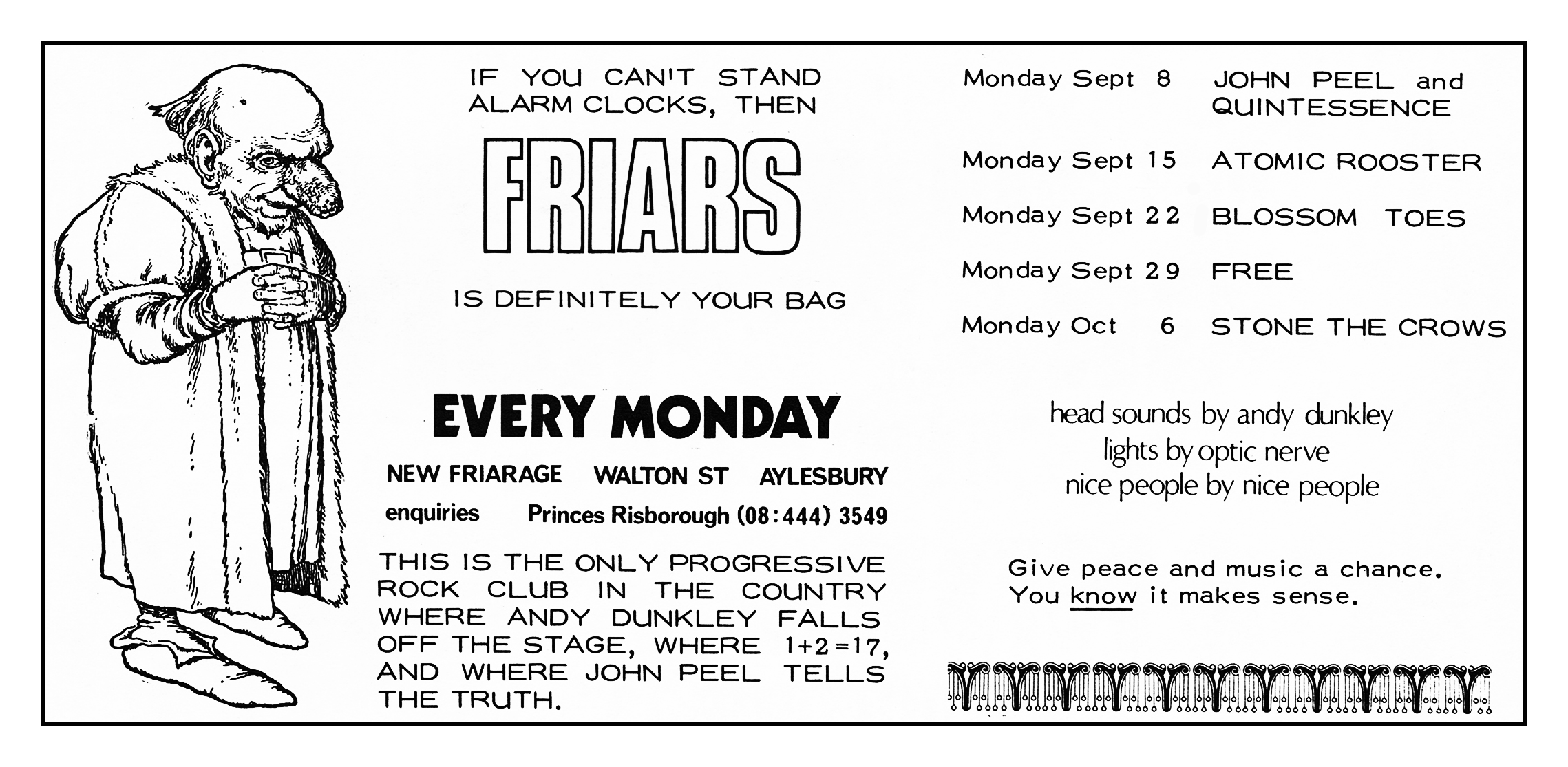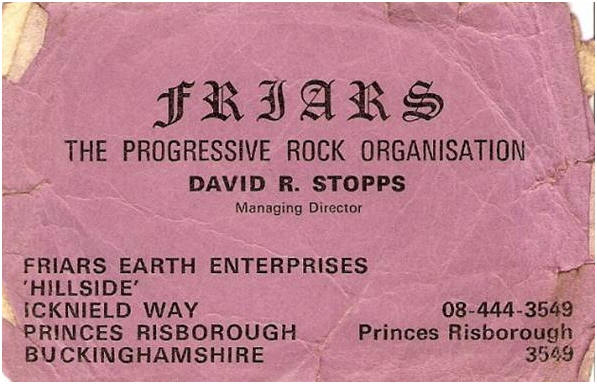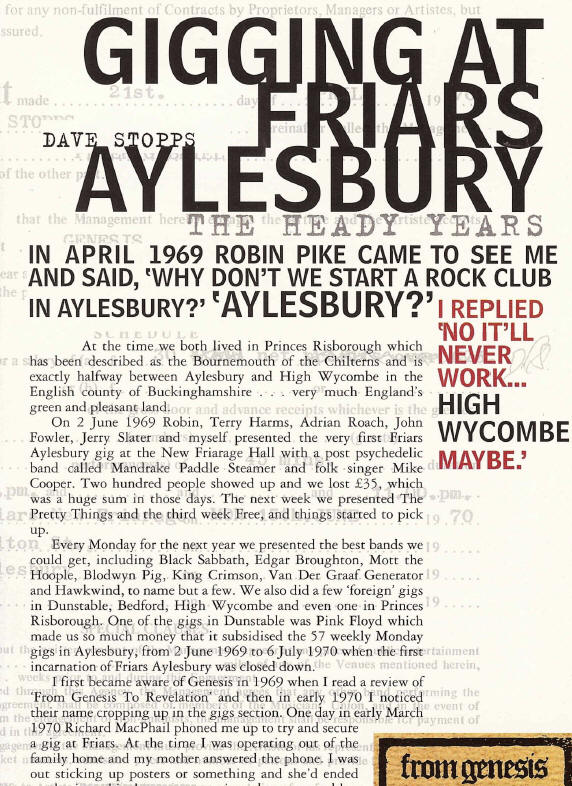 The opening of the club was heralded thus as something for the musically aware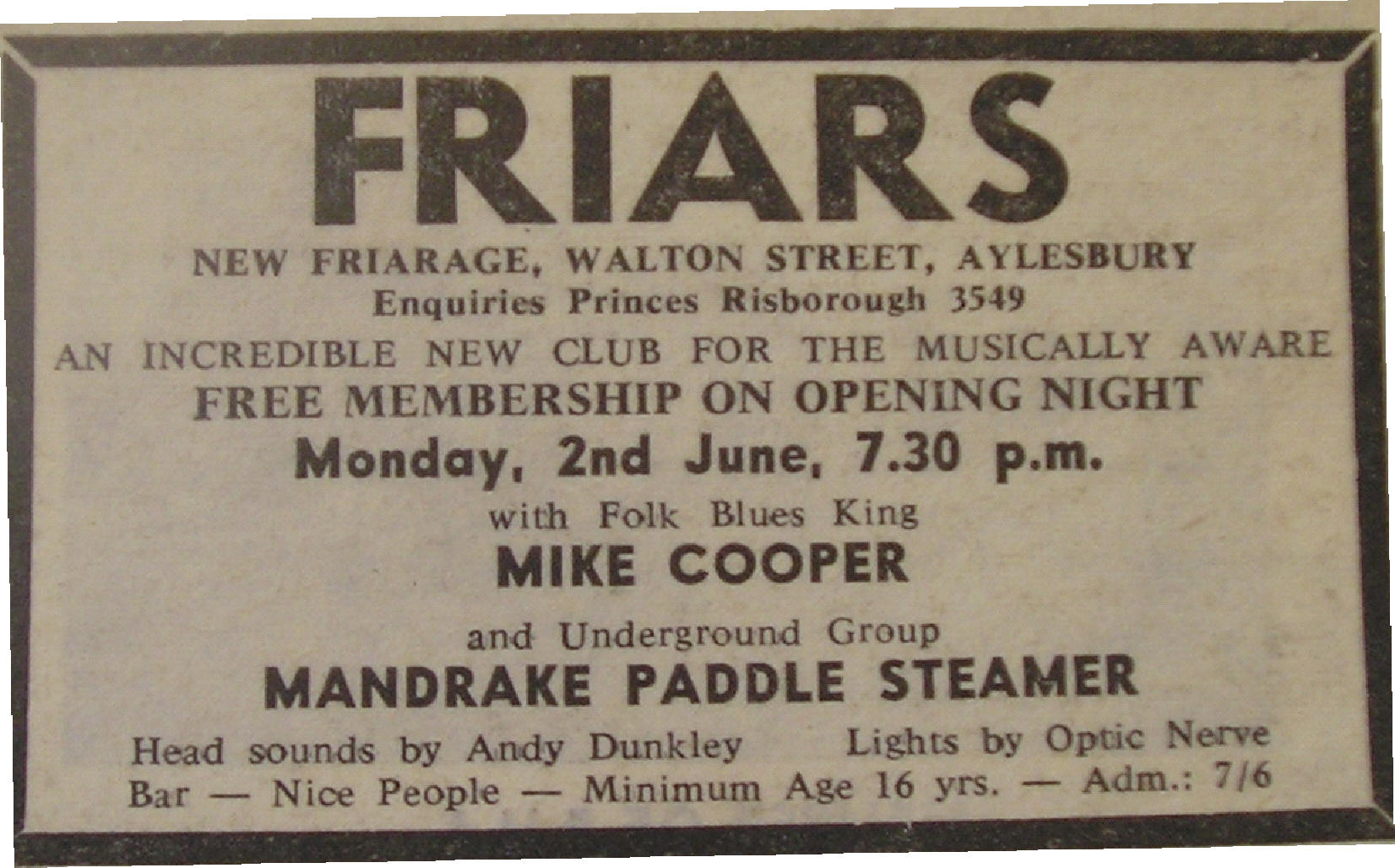 The very first Friars billboard poster - this format was largely unchanged throughout the years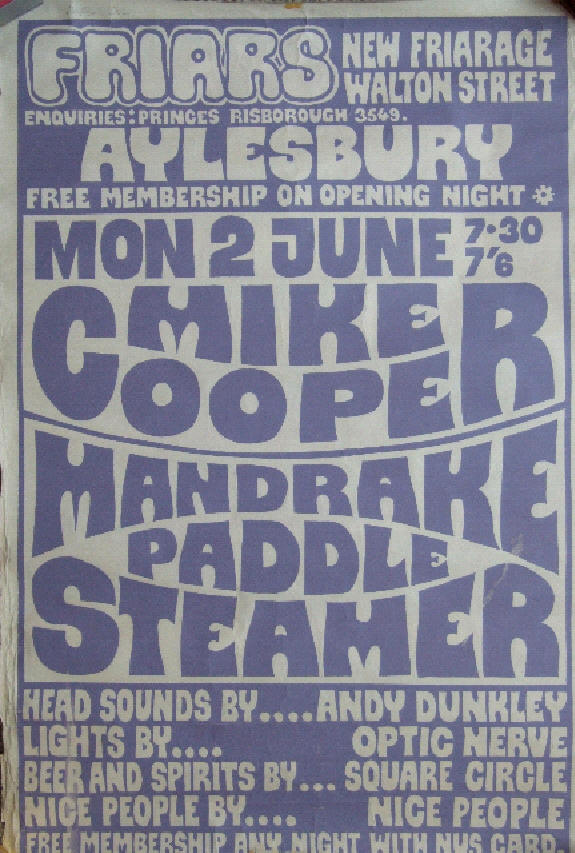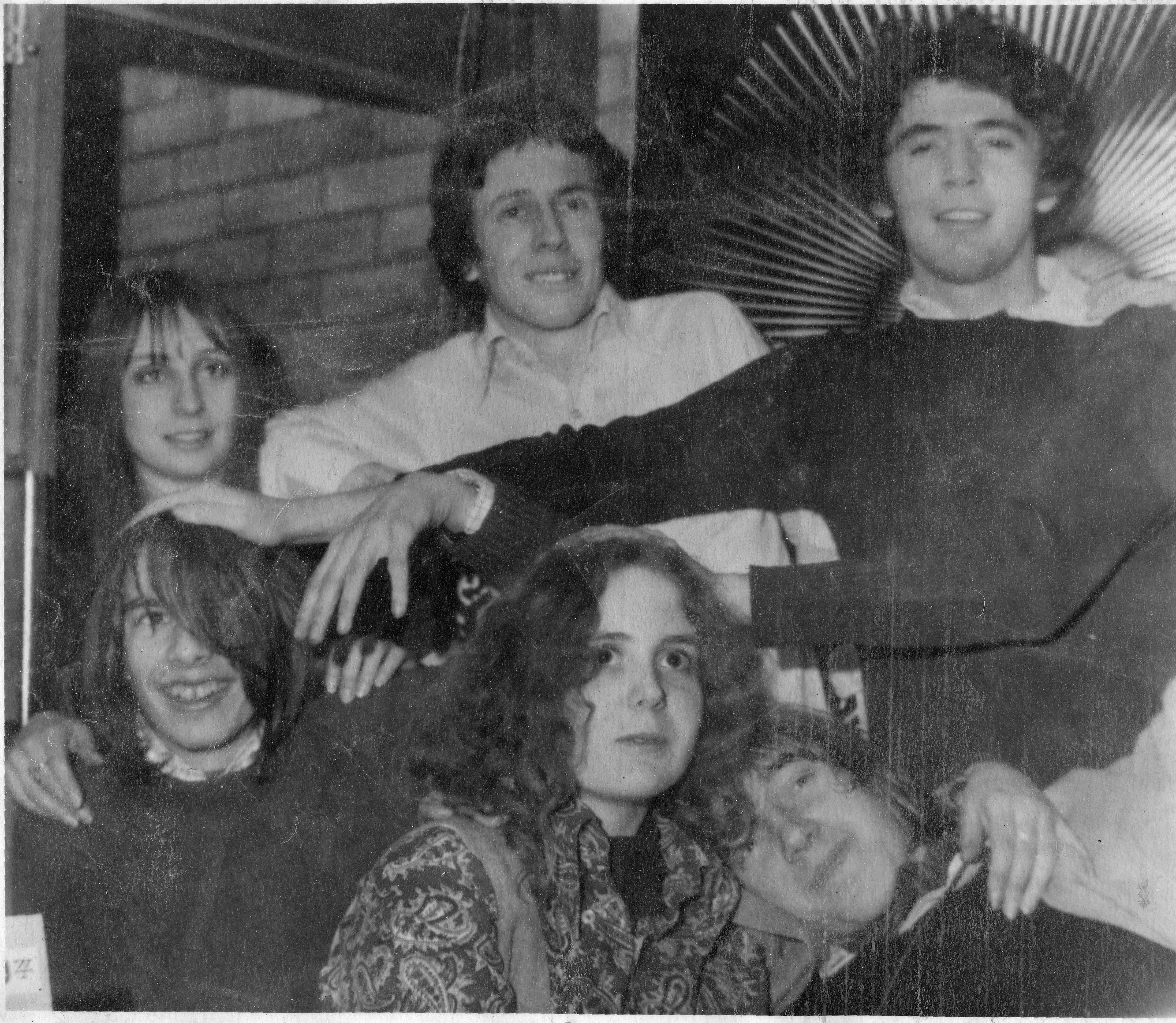 Entrance to Friarage Hall circa 1969.
Photo courtesy of Janet Tucker.
Clockwise from bottom right, Jerry Slater, Carol Borrill, Adrian Roach, Janet Tucker, ?, John Lennon.
The original idea for Friars came from local school teacher Robin Pike who had seen other gigs in local (ish) towns and questioned why something couldn't be started in Aylesbury. After all, Pike was presenting bands at the Aylesbury Grammar/High school Xmas dances. Not only was he presenting bands, he was presenting the likes of Mott The Hoople at the time they were making their Friars debut. He would go on to present the likes of Eddie and the Hot Rods, The Beez, The Piranhas, Mari Wilson amongst others. Certainly in the early days there was a close relationship between Friars and the local school as the below article testifies: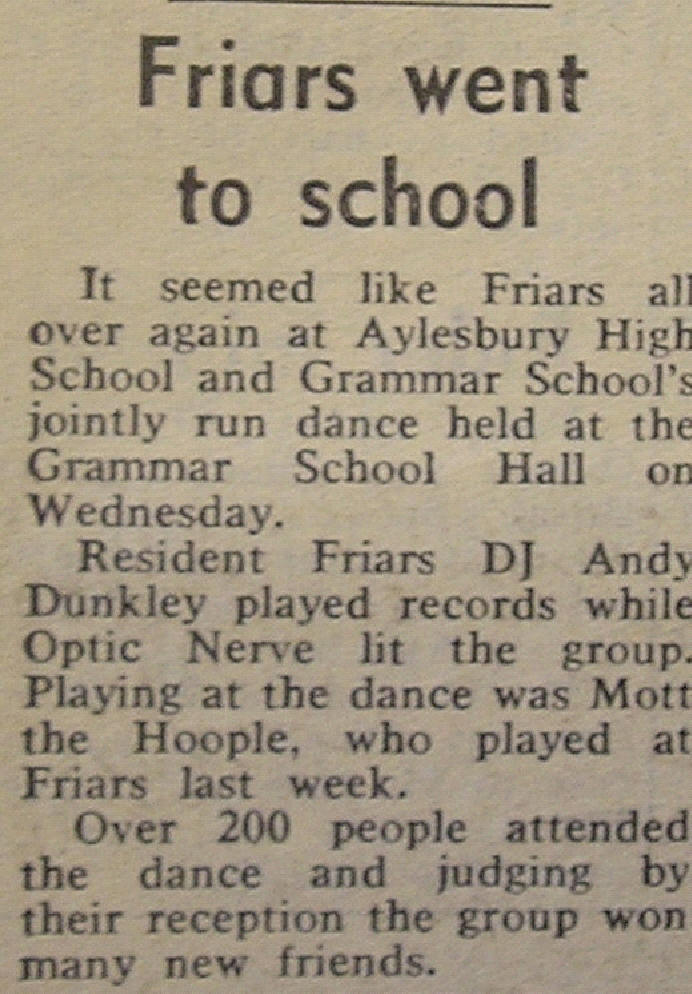 Here's the Optic Nerve guys from 1969 - Mike and Brian, affectionately known as The Gollies, also with mystery guest.....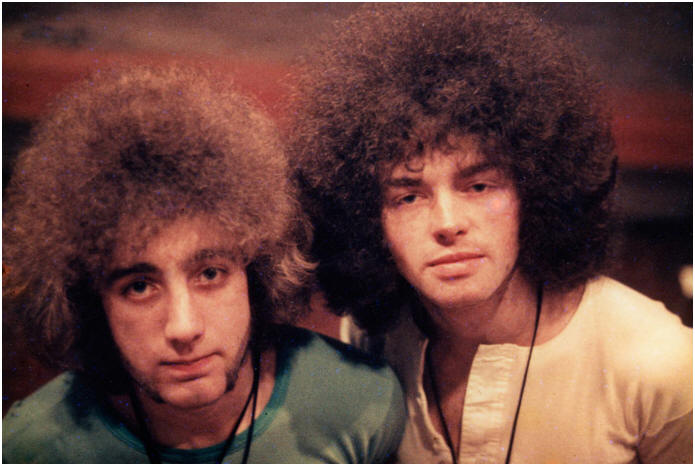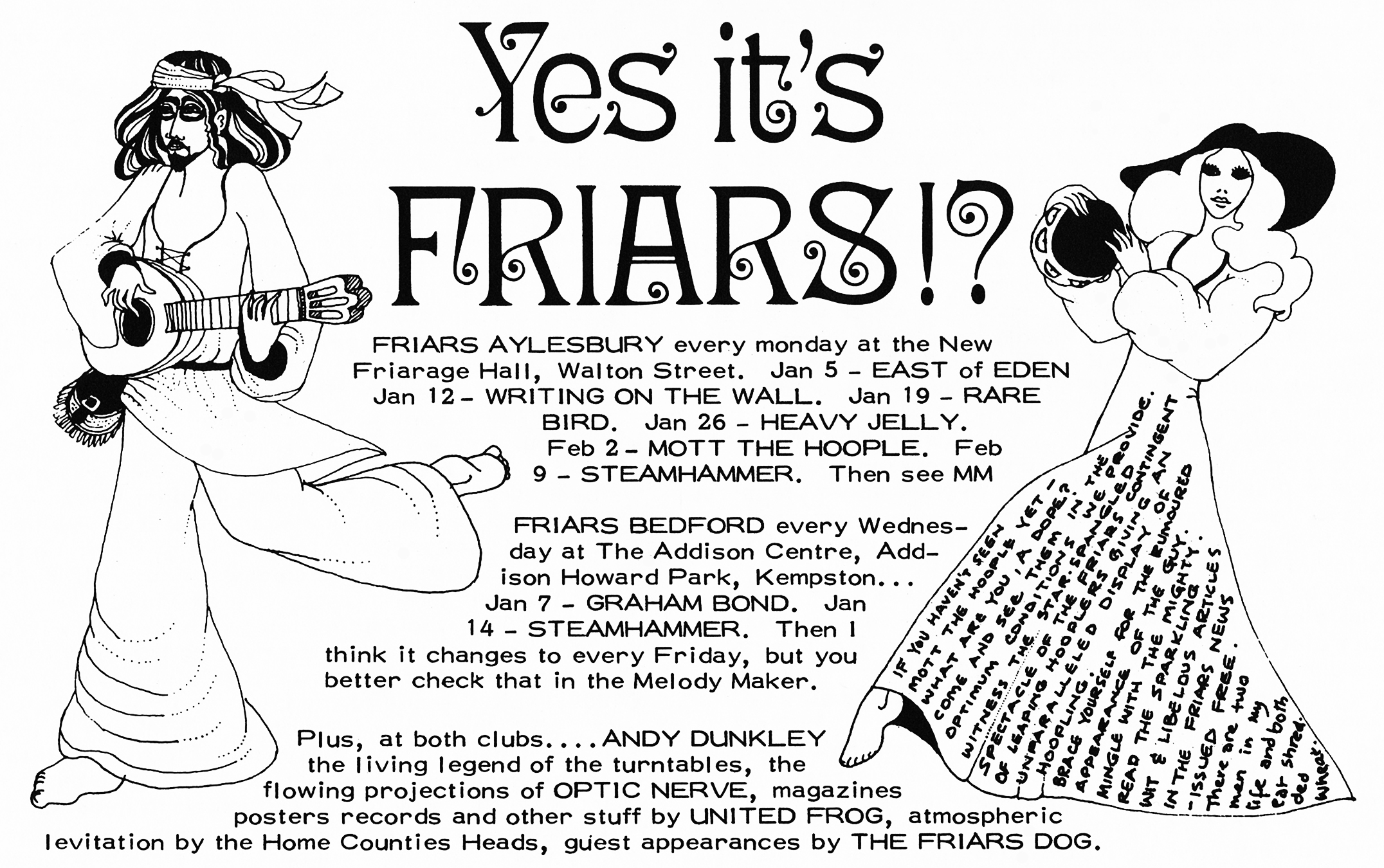 David Stopps became the public face and prime organiser/promoter of this new fangled rock club and, more than once, it nearly came a cropper in the early days and took a few gigs before a profit was posted. Most of the original committee have contributed to this website.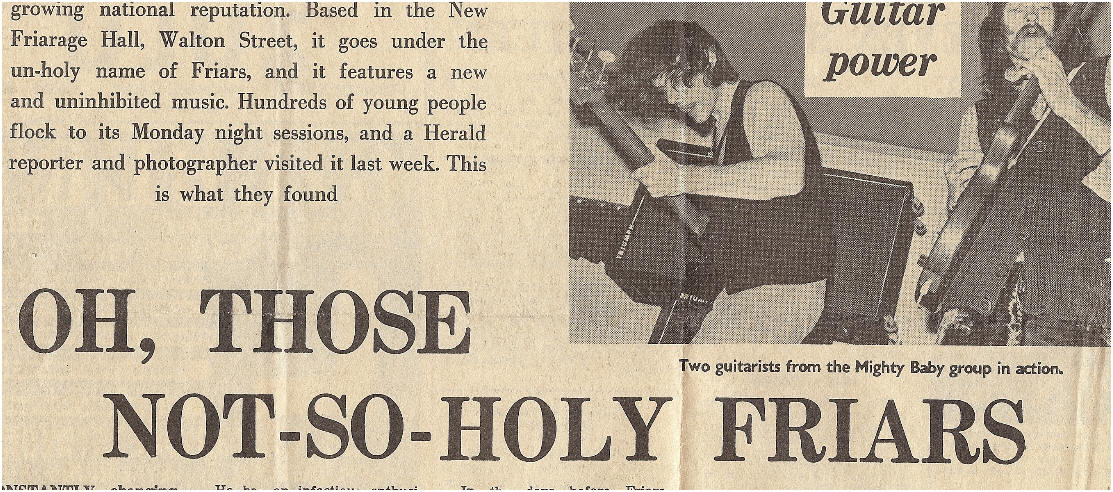 The local press seemed fair to Friars and it wasn't long before, in the Bucks Advertiser particularly, that favourable and regular write ups began to appear, one such article is below.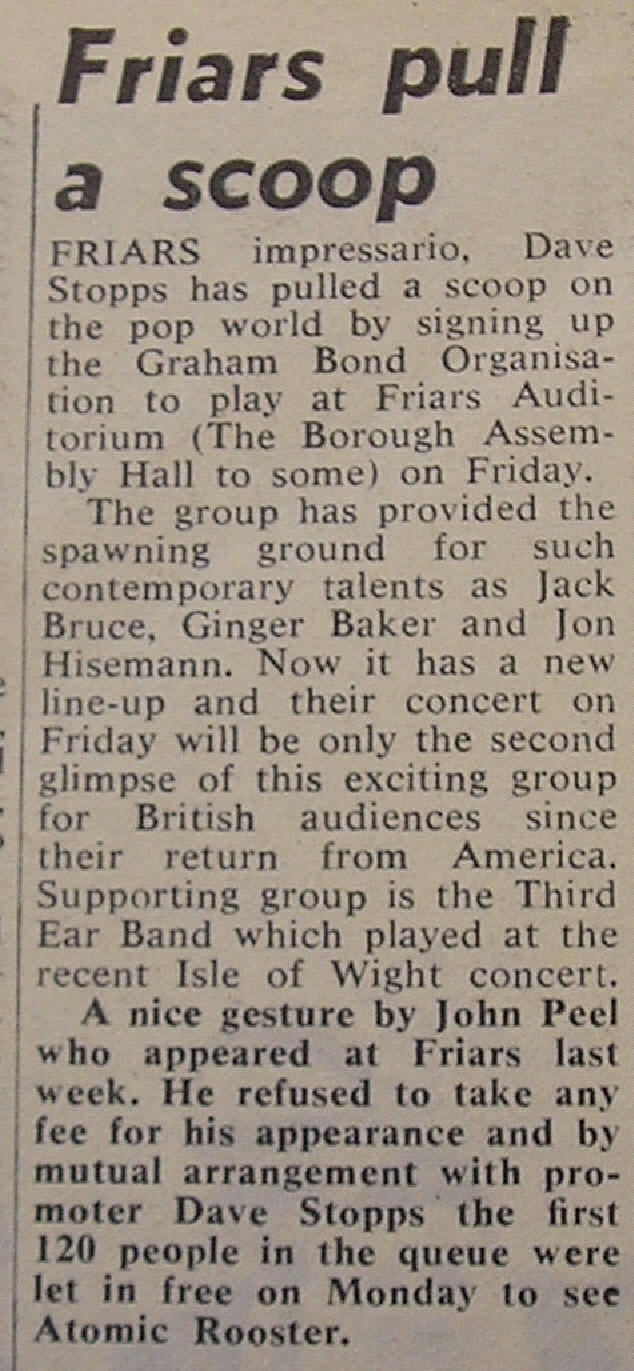 Gigs continued into 1970 and shortly after the club had celebrated its' first birthday, they were unceremoniously turfed out of the Friarage Hall with little notice basically for being too loud and if you read Robin Pike's piece, seemingly upsetting the caretaker's wife....and the local constabulary.
The front page piece on one of the papers seemed to blame in no uncertain terms the closure of those who had imbibed on the funny smelling cigarettes. Certainly given the general philosophy of love doves and peace, it seemed hard to accept this as fact given the club's known stance on drugs.
The other local paper put it down to more accurate reasons.

This isn't to say that people just accepted it and there was more than a hint of suspicion that the "authorities" were looking for excuses to put a stop to everyone's fun. This is what was in the local paper after the final gig - a plea from punters to sort things out. This was the end of Phase One.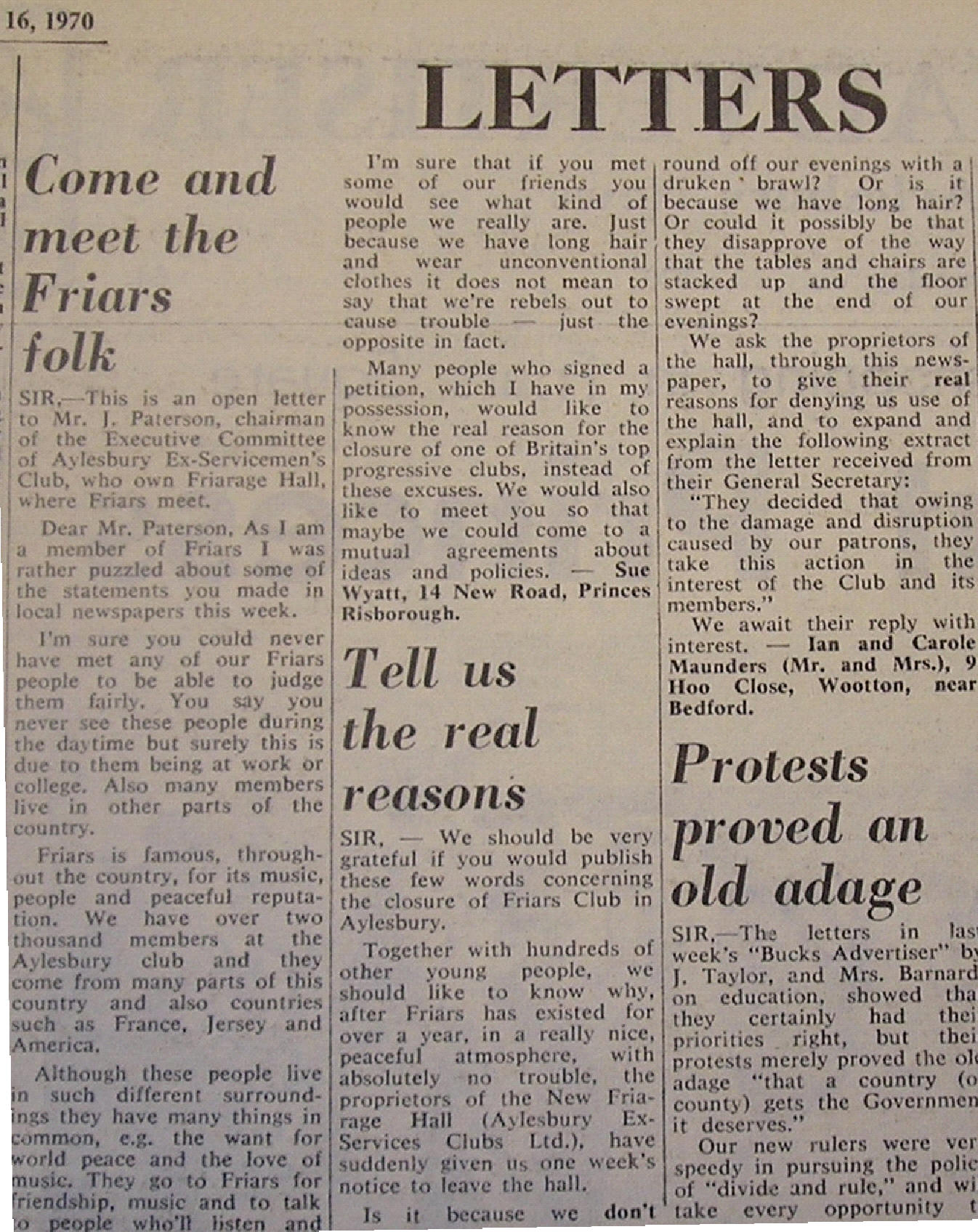 Perhaps it was just as well that Friars had put on a couple of test runs at the Borough Assembly Hall - or the Friars Auditorium as they had cheekily referred to it - as this would be the next incarnation of Friars come April 1971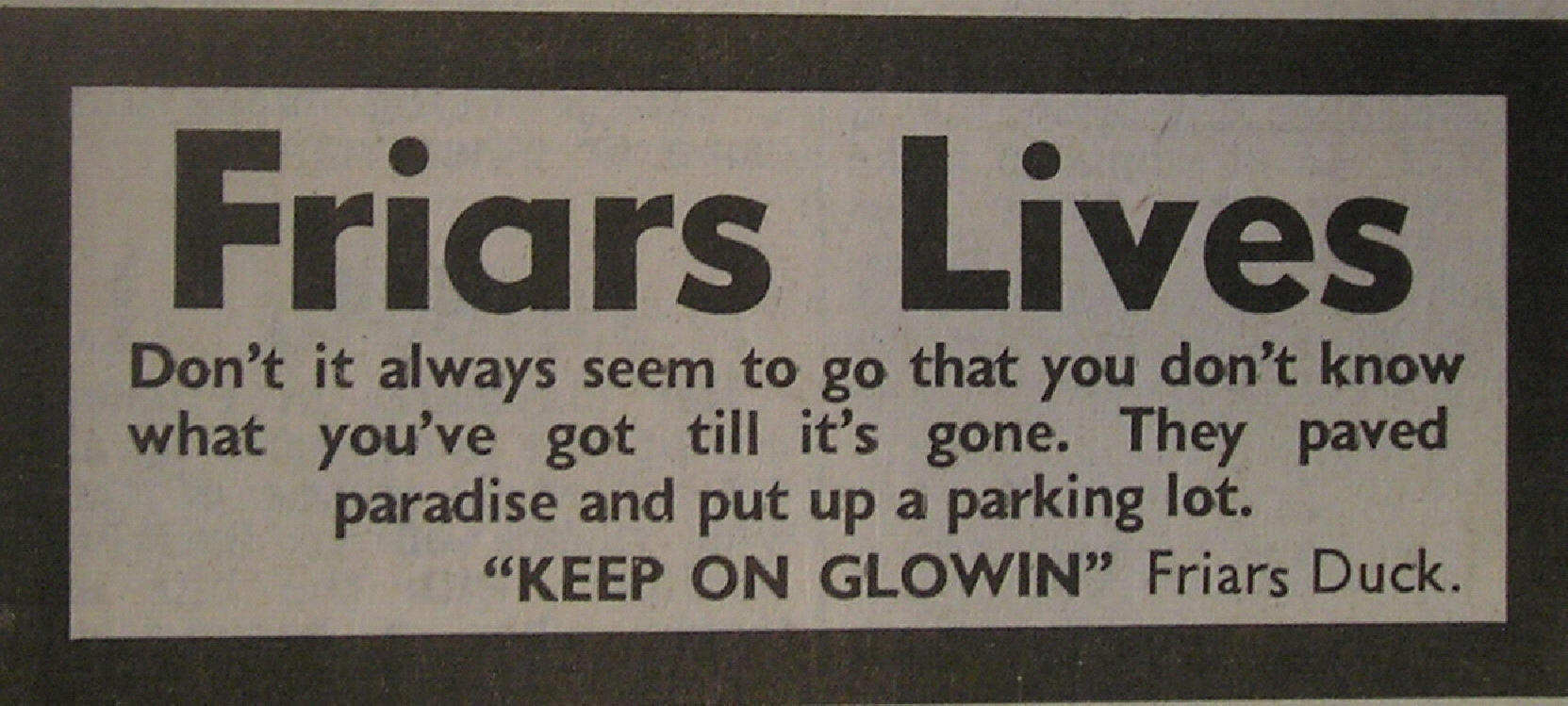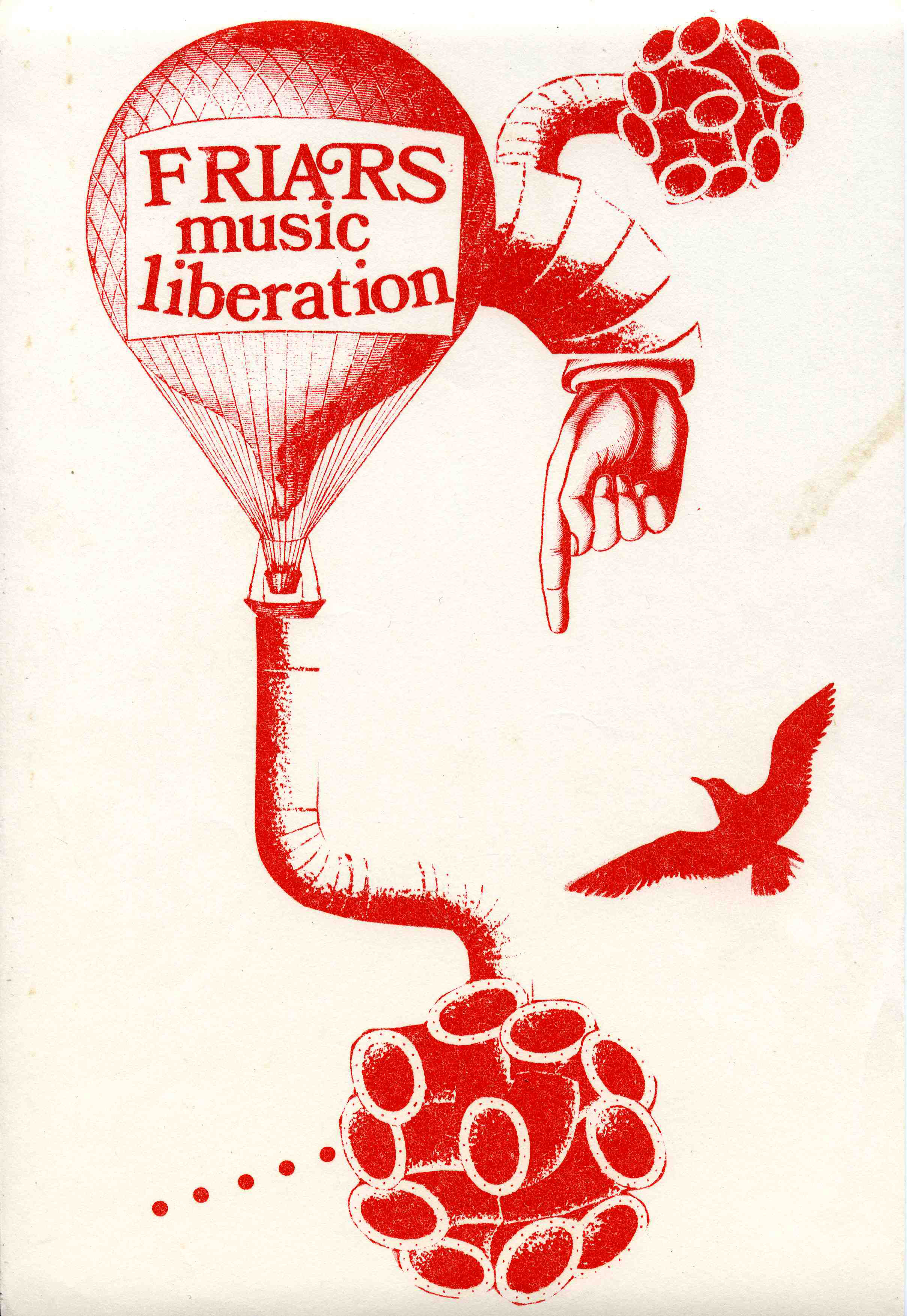 Here's the last document given out at Friars Phase One - the document that says that those attending the Argent gig in July 1970 may be attending the final Friars gig, or at least for the time being.