related friars history (click on date)
999 Friday October 8th 2010
The Piranhas Saturday July 28th 1979 Saturday September 15th 1979 Saturday May 3rd 1980 Saturday December 27th 1980
Kilburn and the High Roads (Nick Cash)
Saturday September 15th 1973
Saturday December 29th 1973
setlist
band line up
999
Nick Cash (vocs) Guy Days (guitar) Pablo LaBritain (bass) Ed Case (drums)
The Mekons
Jon Langford Kevin Lycett Mark White Andy Corrigan Tom Greenhalgh
The Piranhas
Bob Grover (vocs/guitar) Dick Slexia (drums) Johnny Helmer (guitar) Reginad Hornsbury (bass) Zoot Alors (sax)
`
gig poster and flyer (click to enlarge flyer)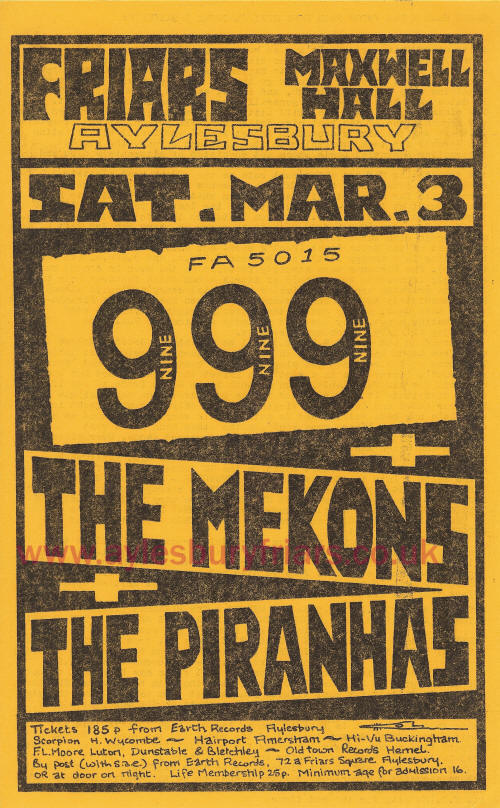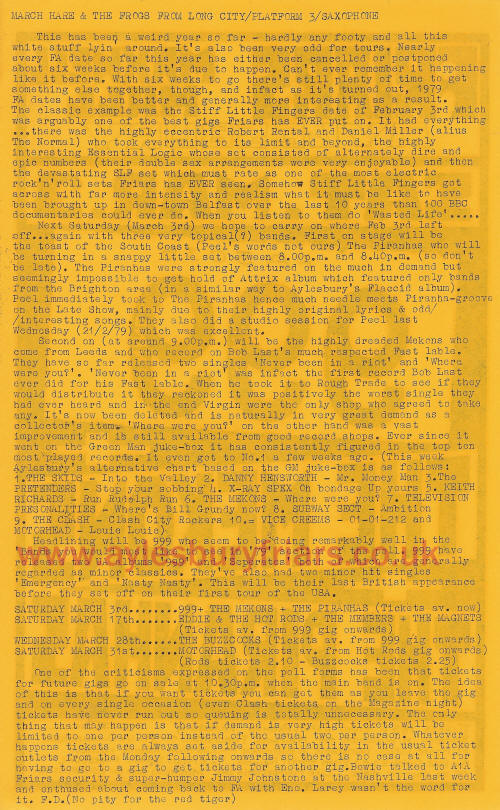 ticket
memories
press cuttings
what happened next
999 with three of the original line up still play and were the first band to play Friars Aylesbury Phase Four in October 2010.
The Mekons are still active too
The Piranhas had split by 1983, but Grover and Helmer have reunited to perform as Piranhas 3D.
odds and trivia
official web presence
999 official site
The Mekons official site
sound and vision
999 - Homicide
The Mekons - Where Were You?
The Piranhas - Getting Beaten Up