related friars history (click on date)
Ian Dury and the Blockheads (Mick Gallagher) Wednesday November 2nd 1977 Saturday May 27th 1978 Saturday January 5th 1980 Saturday November 15th 1980
Ian Dury and the Music Students (Mick Gallagher) Friday March 23rd 1984
The Clash (Mick Gallagher) Saturday January 5th 1980
Arc (Mick Gallagher) at Friars Watford Thursday December 1970
setlist
band line up
Eurthymics
Likely line up: Annie Lennox (vocs) Dave Stewart (guitar) Mick Gallagher (keys) Dean Garcia (bass) Pete Phipps (drums) Dick Cuthell/Martin Dobson (horns) Gill O'Donovan/Suzie O'List/Maggie Ryder (vocs)
Virgin Dance
Virgin Dance: Edwin Hind (vocs) Kenny Dougan (guitar) Lorraine Gardner (keys) Graham McMaster (bass) Cliff Hewitt (drums)
`
gig poster and flyer (click to enlarge flyer)
Thanks Martyn Morris for the poster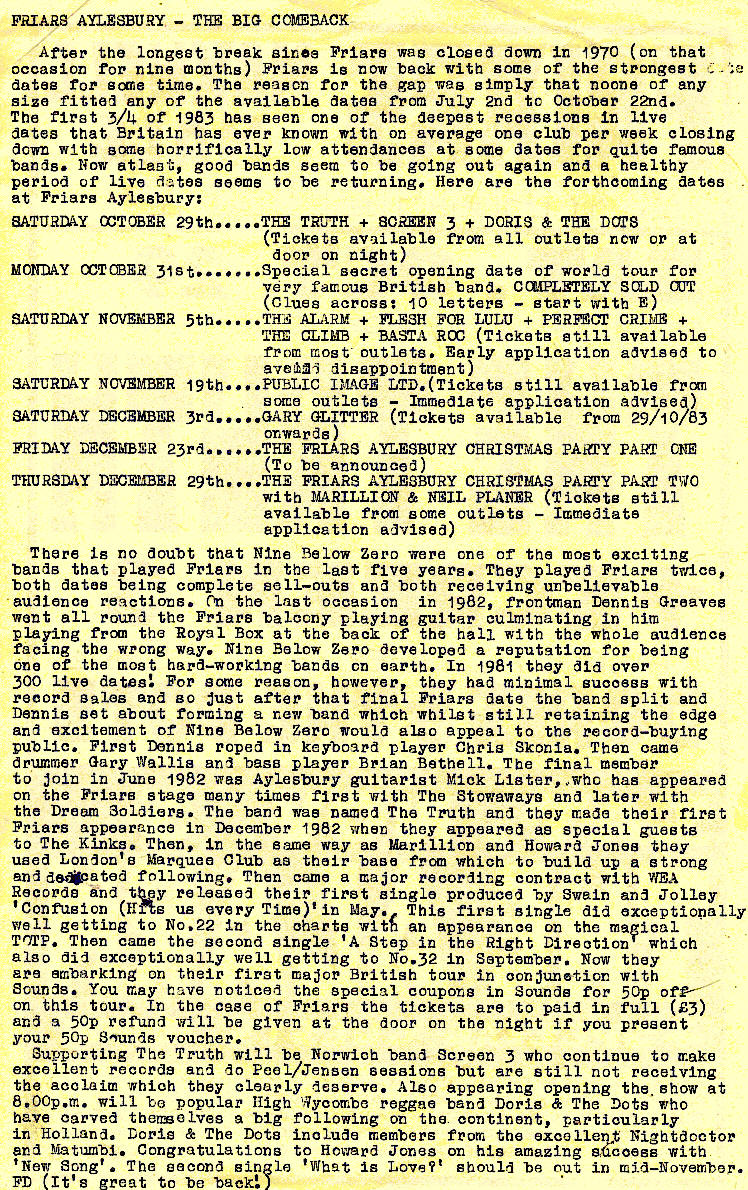 ticket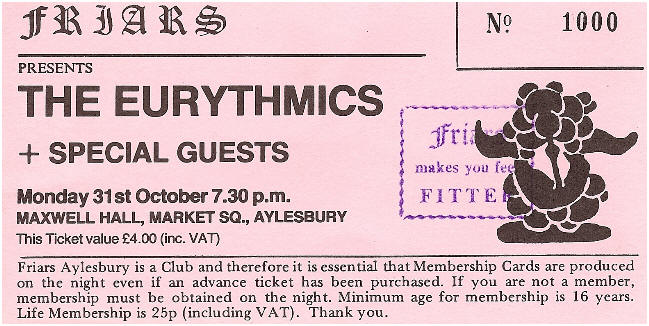 memories
Site webmaster, somewhere in north Bucks:
This was a good one – and Annie Lennox showing off her sparkling asexual image. Billed practically as a secret gig, this sold out well in advance unsurprisingly just as it was no secret either that catching this band at this time would be the only time you'd see them in Aylesbury. They went massive on an arena only scale
With kind permission of Ian Parry: Annie Lennox at this gig.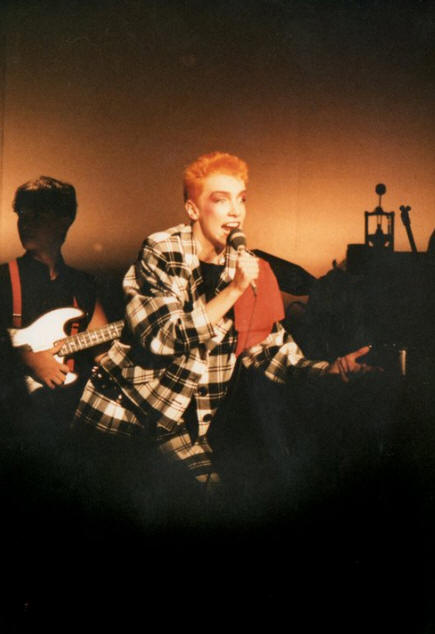 press cuttings
what happened next
Eurythmics broke through in a big way in 1983 and carried on breaking becoming one of Britain's biggest acts. The band went on indefinate hiatus in 1990 whilst Lennox forged a successful solo career and Stewart kept himself busy, also scoring a hit single with Dutch sax player Candy Dulfer. They got back and toured in 1999 on a fund raising tour for Amnesty International and Greenpeace (we saw them on that tour and they had not lost the sparkle). They also promoted together an ultimate hits collection in 2005. Lennox has since released another solo album and Stewart has been involved with musical theatre.

Virgin Dance appear to have disbanded by 1985.
odds and trivia
official web presence
Eurythmics official site
Annie Lennox official site
Dave Stewart official site
sound and vision
Eurthymics - Right By Your Side
Virgin Dance - Are You Ready