Friars kept faith with Mott the Hoople in the early days when they were on the verge of splitting. Even when they made it with All The Young Dudes, they never forgot Friars and came back as superstars and Mott and Ian Hunter continued to play Friars after.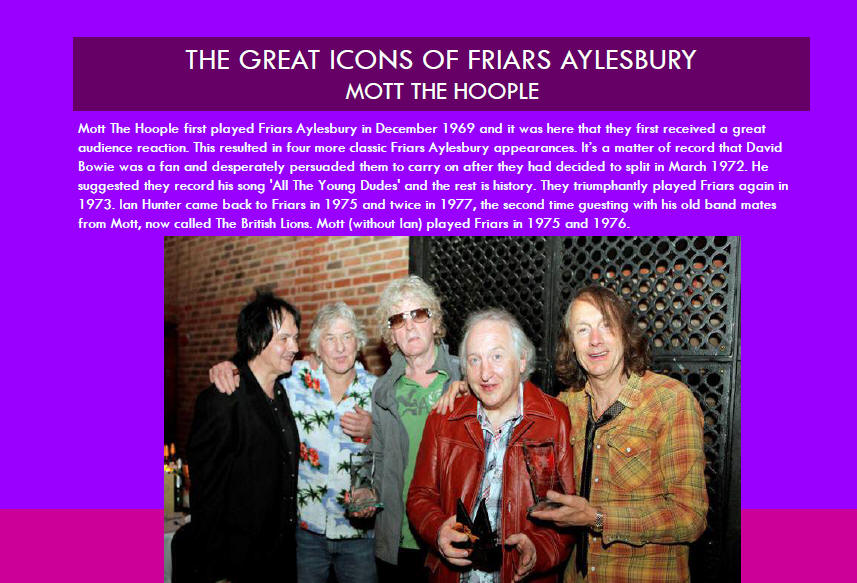 Dr Feelgood first played Friars in 1975 and made such an impression they played very quickly after and again late in 1975 in the Vale Hall. Their Stupidity live album which went to number 1 in 1976 featured initially a live extra single partly recorded at Friars in 1975. Their appearances were never forgotten and neither will Wilko's return to Friars in 2011.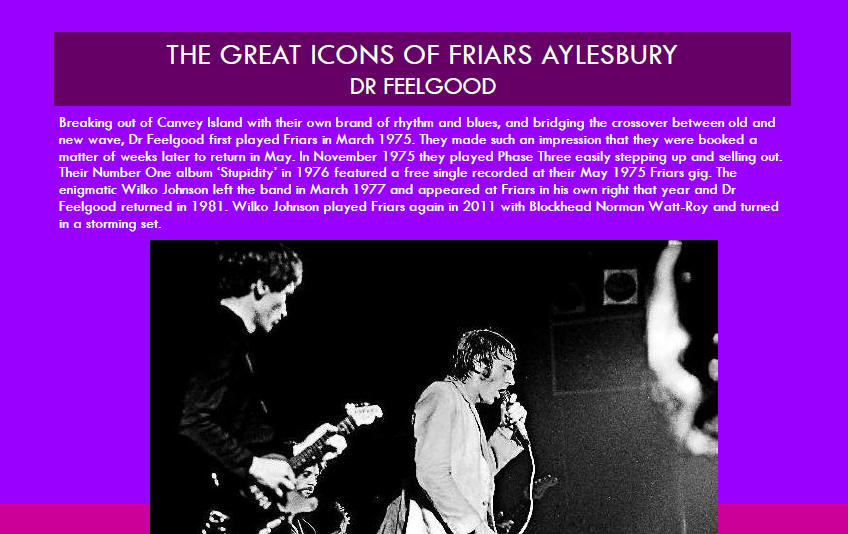 Many won't be aware of Ian's local connections having resided in Wingrave during the days of Kilburn and the High Roads. A unique and charismatic showman, every appearance was a sold out performance.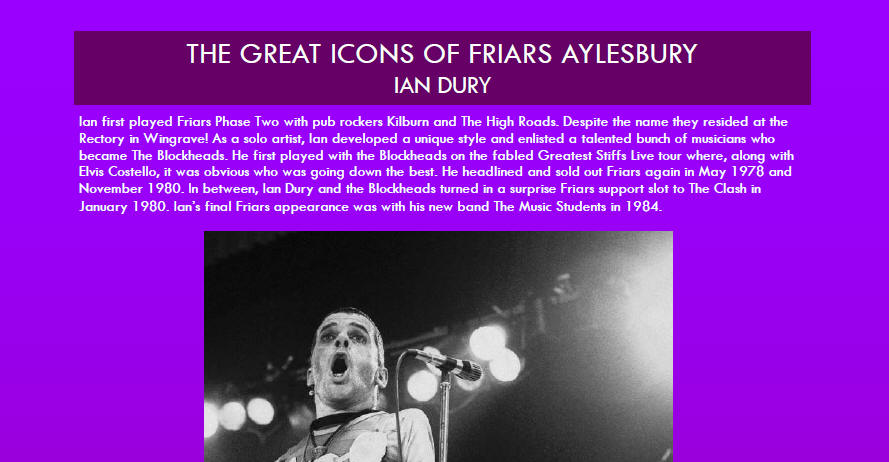 The Clash played Aylesbury in 1978 immediately selling out and showing a big &$£* you to other local councils who were "scared" of these new fangled bands. God bless Friars and AVDC for the reality check. One of the best bands to play Friars and the only band to play a Friars gig at Stoke Mandeville,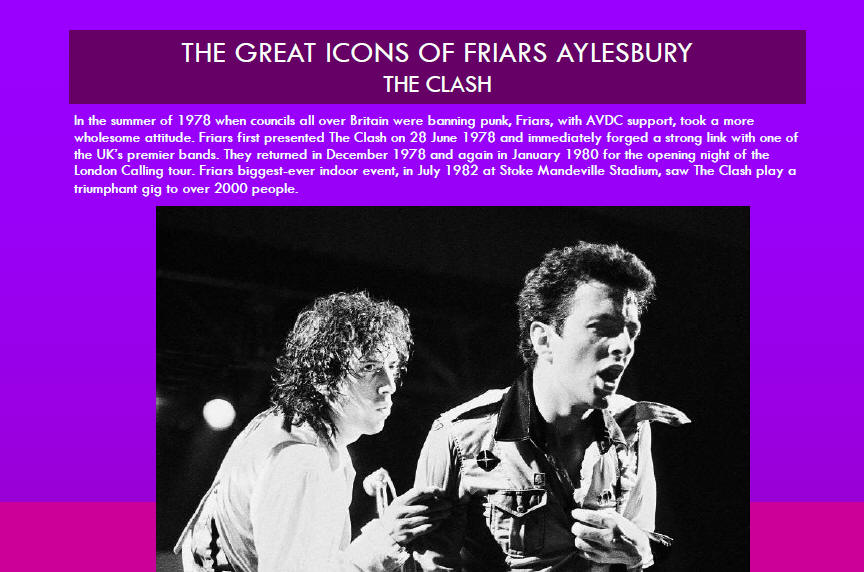 In 1977 The Jam started the year playing pubs, by the end of the year they had released two albums and remain the only band to play a matinee gig at Friars. By 1980 they were arena level but never forgot Friars. Paul Weller played Friars in 2010 closing Phase Three with one of the most in demand and sensational gigs ever.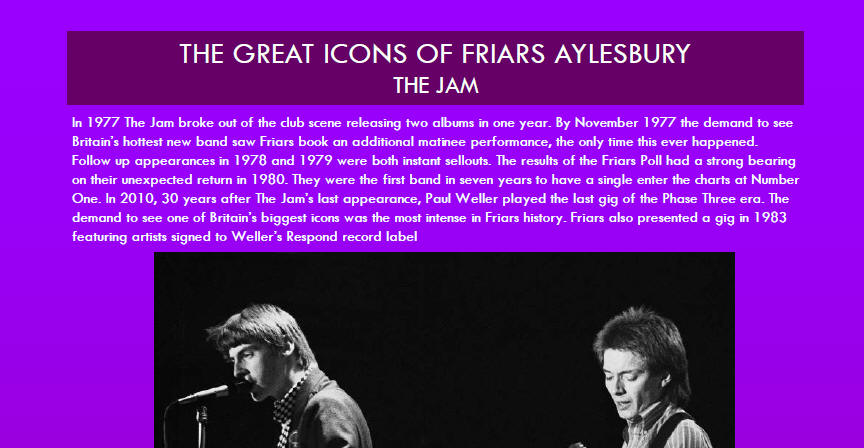 Otway had put Aylesbury on the map and in 1983, they were one of three local artists to break out and sell out Friars. Marillion played the "last" Friars gig in 1984 and played the then unheard Misplaced Childhood album. By 1985 they were superstars and arena level. In 2013 they returned to Friars to an audience of unashamed devotion and played a special Friars encore like it was like 1982.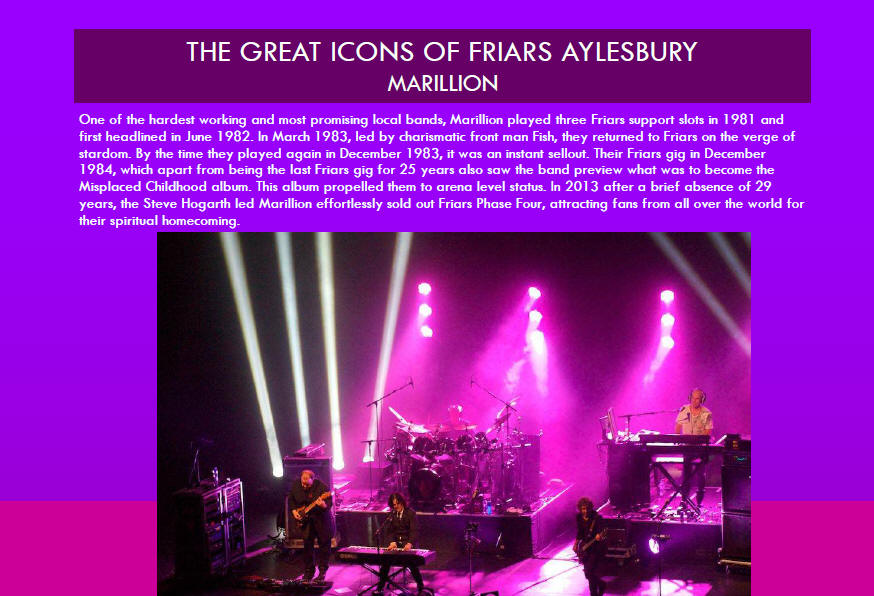 Aside from Marillion and Kajagoogoo, High Wycombe artist and his unique show with mime artist Jed Hoile went big. By 1985 he was arena level and his Live Aid performance was very special.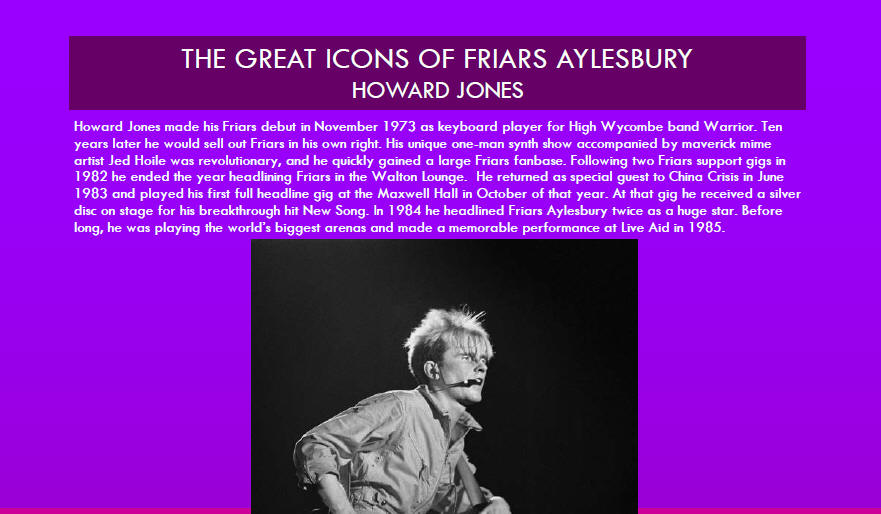 Genesis are the first to aclnowledge the support of Friars in the early days and played Friars any times until they got too big. That said, Peter Gabriel and Phil Collins made a sensational "homecoming" in 1979 and in 1980 when Genesis were stadium level, they came back to Friars one more time resulting in the biggest queue for tickets in Friars history.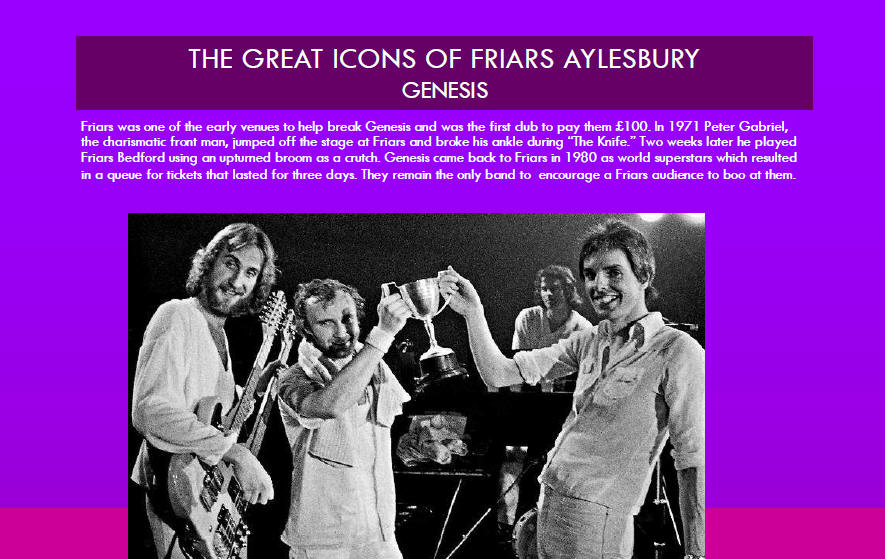 Sailor were one of those bands, like Cockney Rebel, that Friars took a punt on because they had "something" - it paid off and many sold out performances later cemented their place in Friars history. They were the first band inducted into the Friars Hall of Fame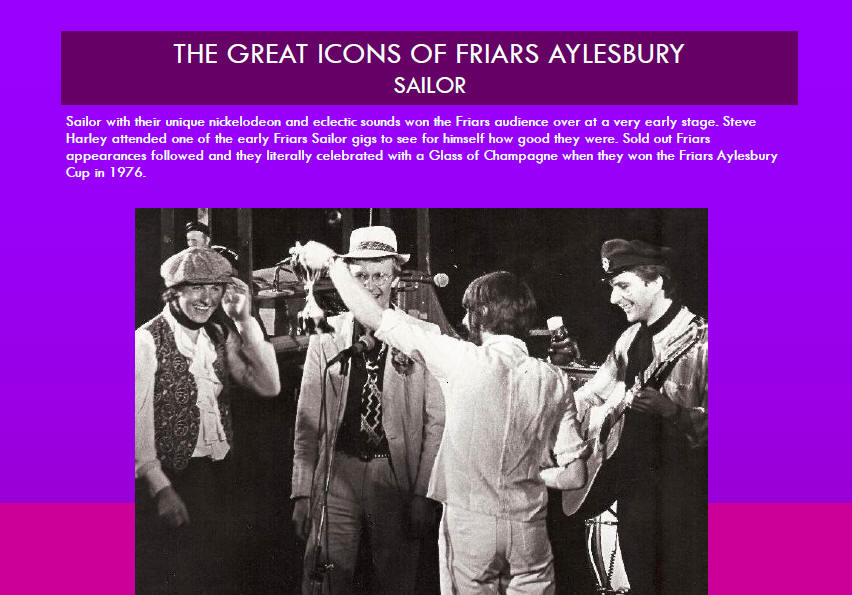 Steve Harley described Friars as "the gig of gigs" - four triumphant performances in 1974 and Cockney Rebel became stars. Steve returned to Friars many times after as a bona fide hero.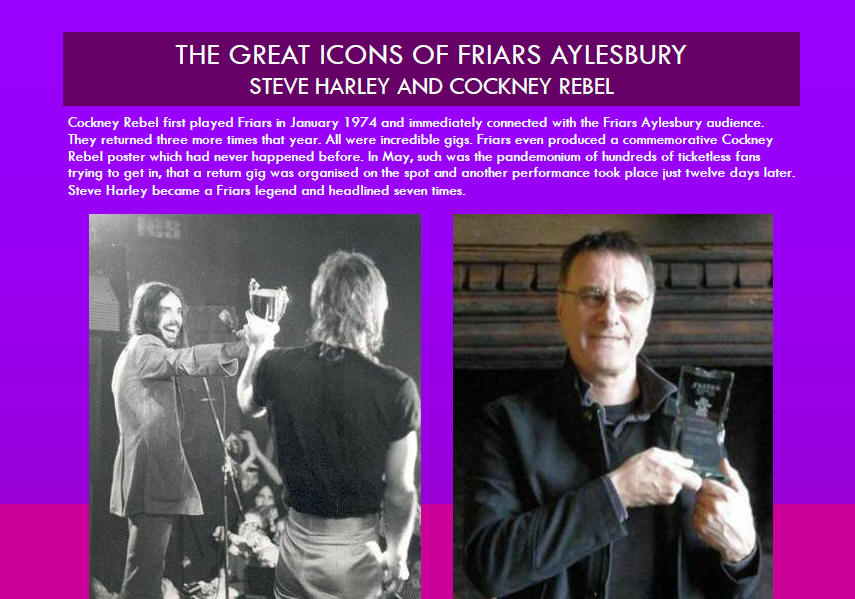 The Ramones........what can we say? An amazing band who forged a strong link with Friars and when their planned return in September 1979 got cancelled, the band were publicly livid. They did come back and their gigs will never be forgotten.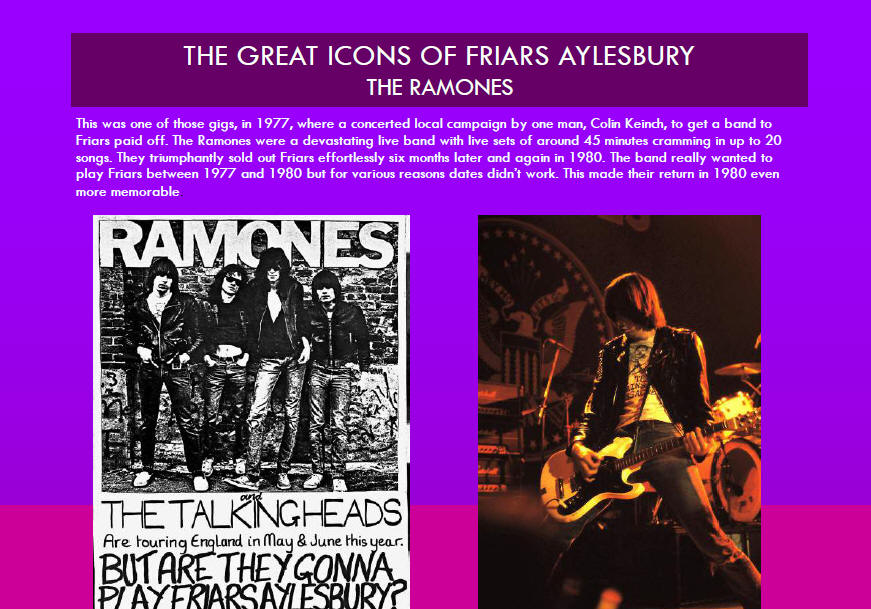 Otway needs no introduction.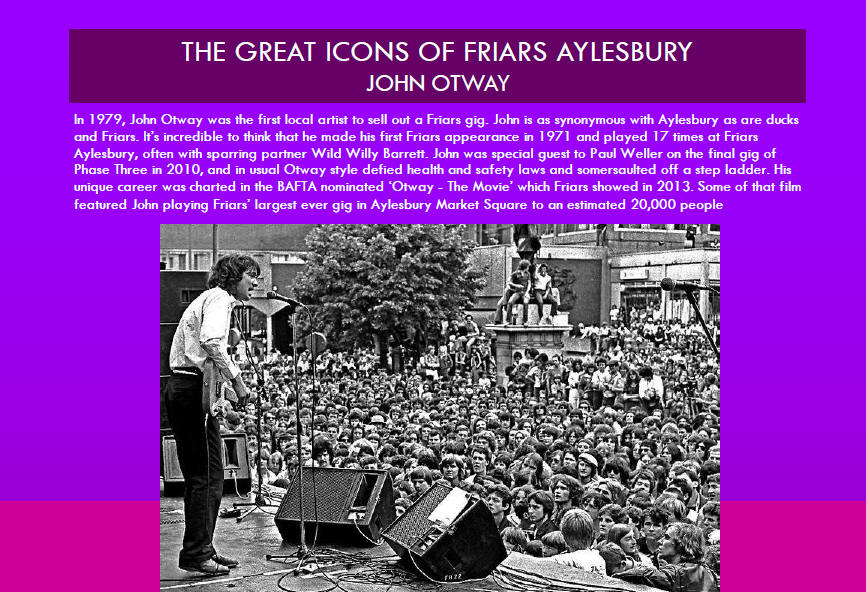 SLF's relationship with Friars has lasted over 35 years. The band have never made any secret about their feelings for Friars and when they returned in 2009, they played a hugely memorable gig.